Who We Are
Trusted Growth

Partner for Law Firms Across the Country
Ten Golden Rules was among the first internet marketing agencies. Since 2003 – when Google was in Beta and Mark Zuckerberg was in high school – our team has helped hundreds of law firms and businesses develop and leverage their marketing and business strategies into increased revenue. We are digital experts with more than 20 years of experience helping attorneys get real results. We utilize proprietary technology to measure our success and literally wrote the book on digital marketing within the legal field.
We have the capabilities to evaluate how your law firm can grow from both a marketing and business perspective. Lead generation, SEO and lawyer advertising are just as important as your internal operating procedures for client intake, rainmaking strategies and the technology you depend on for case management. At Ten Golden Rules, we do it all – whatever you need to facilitate growth is our focus and main priority.
Schedule a FREE Internet Marketing Audit
What We Do
How Can We Help Your
Law Firm Grow?
law firm marketing solutions
Increase Your Revenue by Finding Clients on the Internet
Every law firm has an ideal client who uses the internet. It might be an injured person or a national business. Effective marketing identifies these people and employs the best tactics to reach them. We guide you in developing cost-effective marketing strategies that capitalize on website and search engine traffic to increase your business revenue.
PPC (Pay Per Click)
Conversion Strategies
Google Maps + Review Strategies
Google Screened – Local Service Ads (LSAs)
Public Relations Strategy
And More…
Start Increasing Your Revenue
law firm business solutions
Be More Effective with a Business Management Strategy
Too many marketing agencies focus only on the internet. At Ten Golden Rules we recognize that real growth happens when you look at the entire landscape of the business. Is your technology working for you the best way it can? Are your associates making steps to become rainmakers? Do you need guidance on what case management software is best for your specific needs? We help you manage all the issues that could be limiting your revenue growth whether it's directly related to internet marketing or business setup and management.
Law Firm Management Best Practices
Case Management
Technology Consulting
Artificial Intelligence (Ai)
And More…
View All Our Growth Strategies
Success Stories:
LAW FIRM GROWTH
DONE RIGHT.
Resources
What are The Ten Golden Rules of Internet Marketing
We wrote the books
Literally!
View All Resources
10 Free Strategies for Internet Marketing
Simple steps that any non-marketing professional can follow to get noticed, build a brand, and generate clients.
Order Now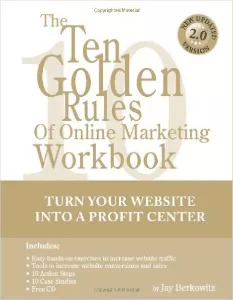 Ten Golden Rules Of Online Marketing Workbook
Simple steps that any non-marketing professional can follow to get noticed, build a brand, and generate clients.
Order Now
Matt the Interns Guide to Digital Marketing
Simple steps that any non-marketing professional can follow to get noticed, build a brand, and generate clients.
Order Now
Why
Ten Golden Rules


is right for your law firm
Commitment to Fair & Ethical Web Practices
Personal Account Manager Dedicated to Your Needs
Industry Leader in Lawyer Advertising and Internet Marketing
Transparent Reporting & Analytics
Headache-Free Customer Service
Founded by Jay Berkowitz, Award-Winning Thought Leader, International Speaker
25+ Years of Experience in Successful Marketing
Services to help you Grow Your Law Firm
What Lawyers Say About Our
Award-winning

legal marketing team
Meet the Team
Testimonials
WHY CLIENTS
TRUST US
Ten Golden Rules is an absolute asset to any law firm or business in general! Highly recommend!
- B. Benes
Ten Golden Rules, and its founder Jay Berkowitz have had a huge impact on my business and prosperity... your time and money will gain leverage here.
- M. Solvie
WOW! Jay is an incredible wealth of information and the "Ten Golden rules" provide the framework for marketing your business - no matter what business.
- L. Goza
Start growing your business now!